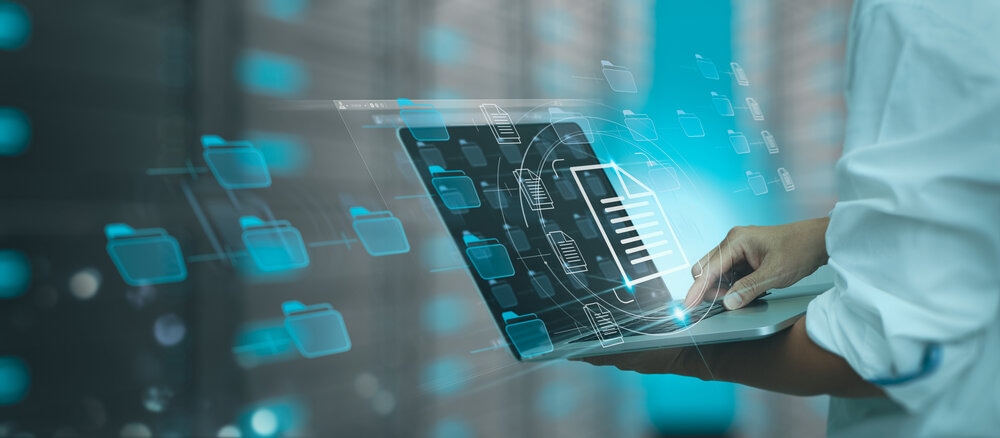 Quick Win Opportunities for Digital Transformation
Digital Transformation (DX) describes how organizations are realizing the potential of new digital technologies – such as artificial intelligence, blockchain, big data, cloud computing, IoT, 3D printing, VR, and drones – to bring added value to customers. Additionally, automation has the potential to dramatically cut operating costs. The outcome of a digital transformation is normally a step change in operational effectiveness and business growth.
It comes as no surprise that research conducted by Harvard Business School demonstrates that companies that are digital laggards don't perform as well as their competitors who embrace digital transformation. They write,
"Organizations that scored in the top quartile of our digital transformation index obtained much better gross margins, earnings, and net income than organizations in the bottom digital quartile. Other financial and operating indicators showed similar disparities."
Where its Been Most Successful
According to research on so-called 'Digital Leaders'—i.e., organizations that were quick off the mark to adopt digital technologies—the most prevalent areas where Digital Transformation has succeeded include:
Digital technologies are making it possible for organizations to serve online customers with personalised offerings and treatments by analysing their shopping preferences, buying behaviors, and interactions. Capturing and harvesting customer data from all stages in the customer relationship is the cornerstone to getting service delivery and product choices right. 3D product visualizations and configurators are at the heart of re-designing product placement in an always online digital era.
In the U.K. town of Milton Keynes, you have to take care sometimes when walking on the sidewalk, because nights get passed by a delivery robot on their way with a food order or a parcel. That's because Milton Keynes is one of the locations being used to trial self-driving delivery robots.
Starship Technologies, a U.K. autonomous delivery startup created in 2014 by two Skype cofounders, has been testing its beer cooler-sized robots in public since 2015. The small, white, six-wheeled vehicles trundle along pavements to bring small deliveries to residents and workers of the neighbourhoods in which they operate, without the need for a human driver or delivery person. The Milton Keynes operation is the first commercial deployment in the UK, and started in mid-March, just as the country was implementing widespread social distancing in an effort to tackle the spread of coronavirus. Residents can download the Deliveroo-style Starship Deliveries app to buy cooked food and small orders from supermarkets, which gets loaded into the robots and driven to them.
Another company investing in drone delivery is Amazon. In 2013 Amazon's boss, Jeff Bezos, launched Amazon Prime Air and announced an intention to begin offering flying deliveries direct to the home within five years. Amazon Scout, a service employing six squat six-wheeled delivery robots, across Snohomish County, Washington, just north of its Seattle HQ.
"These devices were created by Amazon, are the size of a small cooler and roll along sidewalks at a walking pace," the head of the Scout project, Sean Scott. "The devices will autonomously follow their delivery route but will initially be accompanied by an Amazon employee. "We developed Amazon Scout at our research and development lab in Seattle, ensuring the devices can safely and efficiently navigate around pets, pedestrians and anything else in their path."
Two other digital technologies to find a place in the Digital Transformation landscape are 3D Printing and Virtual Reality. These technologies are making it possible to prototype new ideas and designs without having to manually create a prototype or mockup that used to take days and weeks to produced, and required a high-level of craftsmanship. Today, a 3D printer can produce a 3D model of a guitar, cup, cog or coke can in minutes—speeding time to value and enhancing possibilities for product personalization and tailoring to suit discerning customer needs
Smart digital devices are things like smart meters and speakers that incorporate sensors to capture new data. Smart devices are everywhere these days, from the Alexa Speaker on your kitchen worktop to the smart fridge in the corner and your smart utility meter just outside the window tracking your water consumption. These devices represent a key construct in the digital transformation story because they are creating a seismic shift in the amount of data being captured, and the possibilities to use data to make decisions.
Not many people know it, but we probably have Coca-Cola to thank for what has become known as The Internet of Things (IoT) revolution. The main concept of a network of smart devices began back in 1982, with a modified Coca-Cola vending machine at Carnegie Mellon University becoming the first Internet-connected appliance,6 able to report its inventory and whether newly loaded drinks were cold or not.
Governments and municipalities are now considering how they can engineer IoT powered smart digital cities, equipped with sensor devices to manage traffic flows, control emissions, control crowds and keep the lights on.
The rather uninspiringly titled 'Unit E.4' is is the centre of competence for Internet of Things (IoT), responsible for the policy, research, standardisation, adoption and take up of IoT and new business models stemming from the IoT, ensuring the competitiveness of the European industry. The Unit advances strategic and policy issues around numbering and addressing, promotes and implements soft law and/or legislative initiatives relevant to IoT in the context of the DSM, including IoT liabilities, a Trusted IoT label, IoT platforms, IoT standardisation. It fosters the development of IoT innovation ecosystems and promotes global cooperation. The unit is in close collaboration with stakeholders such as the Alliance for IoT Innovation (AIOTI) and is working in industrial partnerships in the context of steering, exploiting and reinforcing the impact of the research and innovation programme, Horizon 2020. The Unit coordinates research activities in the area. (Note: The author is one of the private members to serve on the AIOTI and contributed to strategies for IoT digital city evolution).