We help our global clients leverage the potential of the latest advances in digital technology and metaverse. 
We help your business harness the latest capabilities in digital technology
MetaNXT is the advisory-led IT services arm of USTECH SOLUTIONS, INC. a global IT advisory and workforce management company with a reputation for delivering above-average results, on budget and on time. We offer best-in-class IT strategy services by combining digital technology and people. Our consultants connect the dots in your IT strategy, helping you to achieve your digital outcomes.
We know well the power of partnership. Through the success of our clients, we've grown year on year. For this reason, we have a 97% client retention level.
Transform digitally
While technology innovation is everywhere, it takes know-how and resources to shape it into your enterprise; turning innovation into customer value and lower operating costs.
Harness the Metaverse
We look to harness the latest digital technologies with a global team of technologists who are keen to explore the potential that it has to offer.
Outsource IT
We blend onshore, offshore, and nearshore IT on-demand project delivery with an unrelenting commitment to excellence.
Deploy resources faster with our end-to-end Talent Solutions Platform
Execute projects in onsite/nearshore/offshore models
Benefit from improved risk mitigation over IT project delivery through our commitment to quality and customer service
Enjoy access to flexible service arrangements including SOW, T&M, Fixed Bid and Managed Outsourcing models
Leverage the length and breadth of our skills, capabilities, best practices and methodologies
Lower the Total Cost of Ownership (TCO) for IT
Experience scalability allowing you to execute from pilot projects to large-scale programs
Increase your Return on Investment (ROI)
Part of a global organization offering IT Consulting and talent solutions to 150+ customers including 20% of the Fortune 500
Headquartered in New Jersey, we operate with 40 global locations across the U.S., Canada, Europe, and India.
Industries we serve include Financial Services, Healthcare, Life Sciences, Aerospace, Energy, Retail, Telecom, Technology, Manufacturing, and Engineering.
A certified Minority Business Enterprise, we embrace diversity as a core component of our culture, our approach to business, and the opportunities we provide to our clients and our employees. We are proud to be rated as 'The Top Business in the U.S.' by Diversity Business since 2011.
Cmmi Level3 Certified, ISO 27001, ISO 9001:20015 Certified (Quality Management Systems).
Working as your strategic consulting partner, our team of expert and specialized individuals act as a catalyst for enhanced operational efficiency and increased productivity.
ISO 14001: 2004 Certified (Environmental Management Systems).
As a minority-owned business we're proud to promote the values and rewards of diversity and inclusion.
Our diversity initiative seeks to attract and foster strong relationships with staffing suppliers capable of not only providing diversity spend, but for providing value that is heads-and-shoulders above that of other providers.

We pride ourselves in our ability to attract and retain a diverse workforce that is a reflection of the needs of our clients and of the marketplace at large. Diversity is a key component of our corporate culture, as is evidenced by the fact that our leadership team and workforce is highly diverse.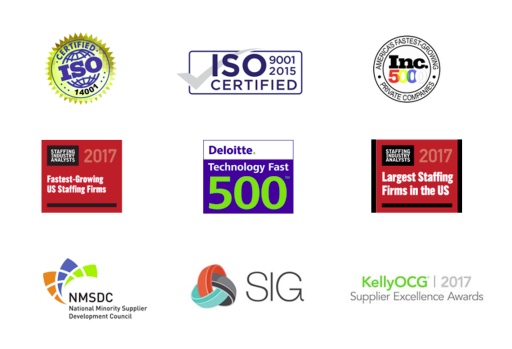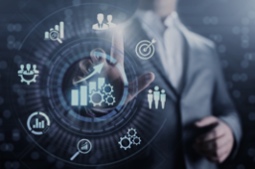 Empowered people
We encourage leadership and accountability at every level of our organization. It empowers our team to achieve above and beyond results, always be prepared to make suggestions and go the extra mile for our customers.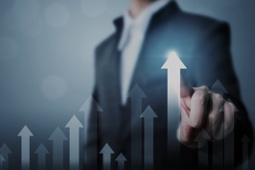 Committed to Excellence
We're committed to excellence in everything we do, from first contact, through to our frequent client reviews that focus on value-for-money, economies, and smarter working.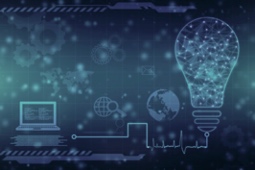 Continuous Improvement
It's when things are going well that you need to challenge the norm. Settling for mediocrity can become a state of mind. That never happens on our watch. It takes a willingness to call into question whether the results we see today, are the best they can be tomorrow.
GOLD PARTNERS OF SOCIAL JOY

Our parent company, USTECH SOLUTIONS, is a GOLD SPONSOR of Social Joy, a not-for-profit organization dedicated to promoting positive work-life experiences. Programs include Women in IT, Career Mentoring, the promotion of Fairness and Diversity in the workplace.